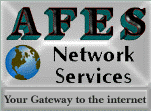 AFES Network Services System Status Page&nbsp

---
Internet circuit upgrade and IP number migration
6-26-18 For those customers that connect to Spreckles 5g AC radios, especially North-West, if you are having problems connecting, please power cycle your injectors.
5-1-18 we have finished the upgrade process and have doubled the capacity of the network. Each client will be adjusted to increase speed by about 33%. If you suspect your account connection was missed in these adjustments please call our office so we can verify and correct if necessary. thank you.
4-11-18 On Wednesday 4-11, service will be disrupted as we will be renting the man-lift to complete the installation of a new back haul at the Yolo AP. We should have all work done on this upgrade project completed after Wednesday.
4-3-18 We are currently in the process of implementing an upgrade to a new fiber circuit that will double our capacity for speed/bandwidth. This upgrade requires a complete re-design of our IP network meaning that any customers with static IP numbers will be provided new IP numbers. This migration will take about 1 month to complete and we will be contacting those who use static/assigned IP numbers directly. We appreciate your patience during this upgrade. The end result will be faster Internet speeds for everyone which will hopefully make the inconvenience and work worthwhile. John, Dusty and the AFES team appreciate your business.
---