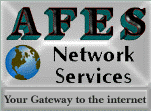 AFES Network Services System Status Page&nbsp

---
Network Outage
On July 19, 2013 ATT experienced an outage due to equipment failure covering an area from Sacramento to the Bay Area. This outage caused our network to go off-line. We apologize for the inconvenience.

7-21-13 due to a necessary change in LEC carriers, the primary telephone # for support and sales, 668-9864 went off-line. We anticipate it will be operational by 7-23-13 and in the interim, please call 530 848-8634, thank you.

7-24-13 telephone operation is fully restored. Our main office number, (530)668-9864 will now connect you to the fastest response for support services.

7-25-13 We now have a fully operatonal 900 Mgz system in Rumsey which will cover the north end of the Capay Valley with full broadband access. With the assistance of the Rumsey Improvement Association we were able to secure a workable location for an access point and the coverage is better than previous installations.

---